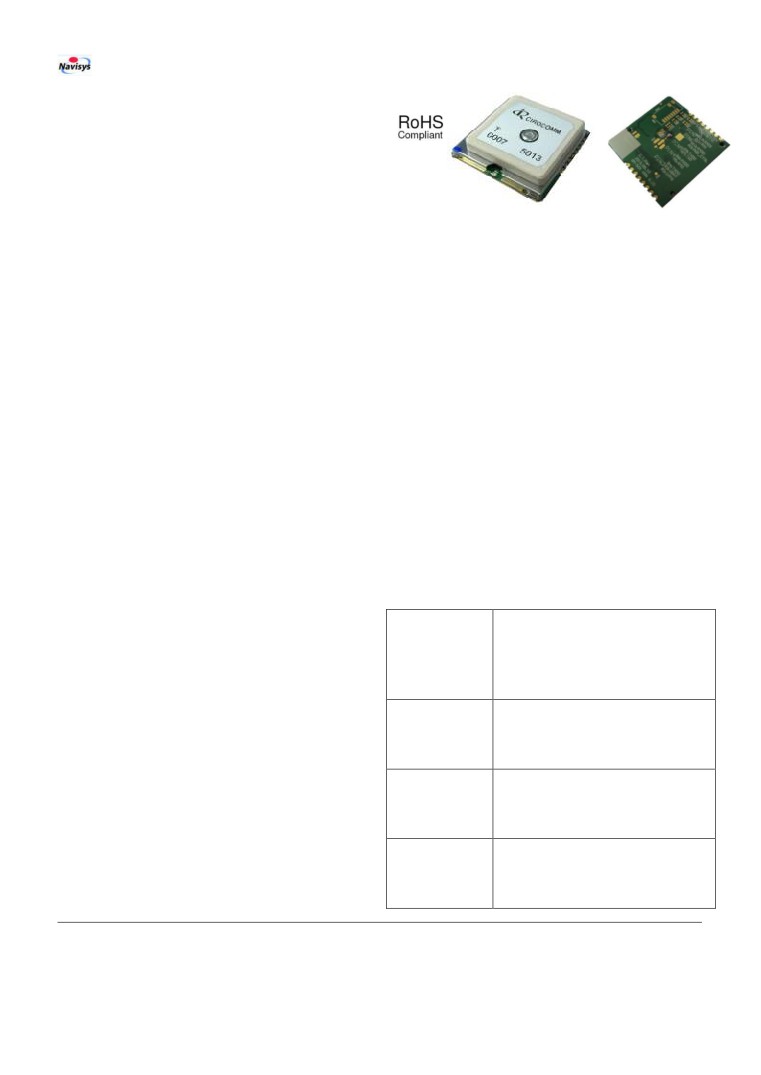 NaviSys Technology - Your Location Partner
SMT Mountable GPS Module / GM-A703
GPS Module with Patch Antenna

Local self-generated ephemeris prediction support
GM-A703 is an easy to use, ultra-high performance, low
power GPS receiver module with patch antenna for AVL

Flies up to 99.99km for high air version.
/marine applications. It supports multiple satellite

High accuracy
1PPS
timing
- GPS, QZSS, GLONASS, and

Easy to use: built-in patch antenna
SBAS. The
SMT
mountable
design allows mass

V_BAT pin su
pport for faster position fix
production with automatic assembly.

PWR_CTRL pin to switch GPS module on and off
With GM-A703, the RF tuning efforts and also
dynamically for easy power saving control.
development time is reduced to the minimum. An optional

Blue LED for position fix indication
hardware controlled power switch was built-in. It allows
power cycling by the PWR_CTRL pin.

Industrial operating temperature range: -40 ~ 85
℃
Our experienced design fully exhibits the excellent
1.
Some features may conflict with other features
performance of SiRFstarV chip. It works in GPS signal
difficult environment, provides fast acquisitions and
excellent tracking performance.
Receiver
Performance Data
+

Vehicle navigation devices
L1OF 1598.0625 ~ 1605.375 MHz

Timing (GPS clock, FEMTO cell, traffic lights etc)
(50% 24hr static, -130dBm)
<0.01 m/s (speed, autonomous)

High performance: -165dBm tracking sensitivity

Low power: 33mA at continuous tracking

SMT Mountable with built-in antenna

Multi-constellation: GPS/QZSS/GLONASS
1

Supported SBAS: WAAS/EGNOS/MSAS/GAGAN
Address: 2F, No.56, Park Ave. II, Science-Based Industrial Park, Hsinchu 300, Taiwan (R.O.C.)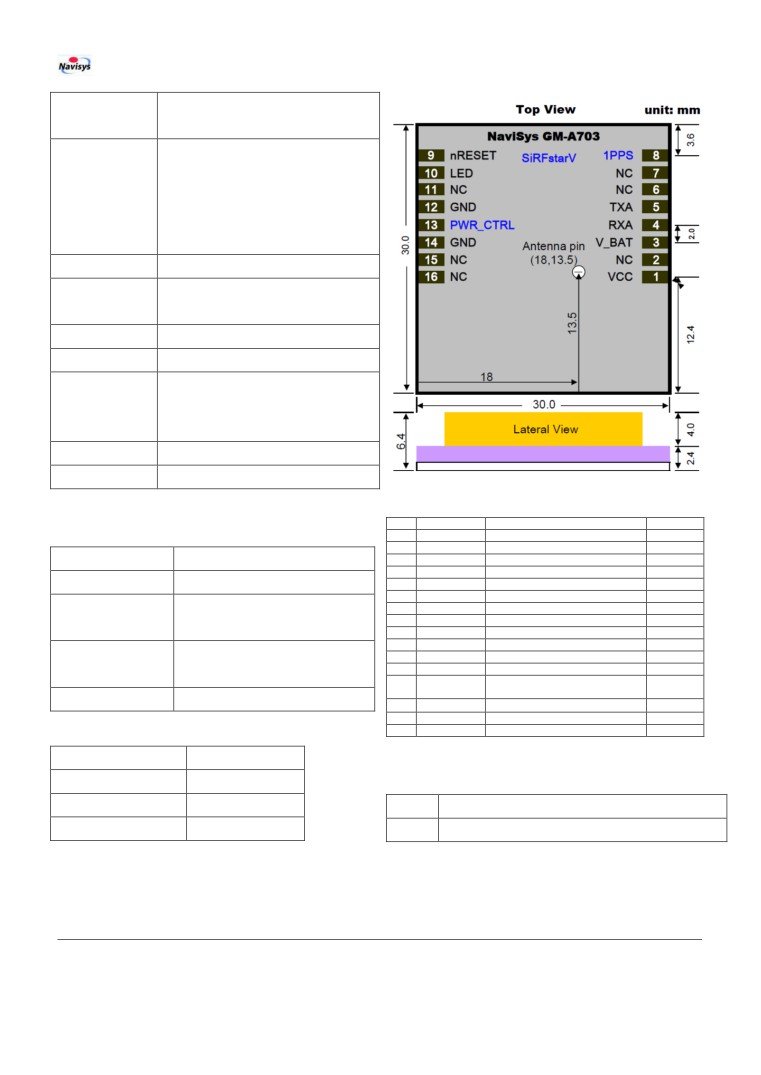 NaviSys Technology - Your Location Partner
SMT Mountable GPS Module / GM-A703
Acquisition: -146dBm (GPS)
Navigation: -163dBm (GPS),
<18,000 m (normal version)
99.99 km (high air version)
NMEA V4.00: 4800/9600/38400bps
+
Note. According to IC Spec
3.3VDC backup battery supply
Port 0 serial data input (GPS in)
Port 0 serial data output (GPS out)
1 Pulse Per Second signal
Active low, at least 250ms
LED display for position fix
V
IH
:

0.7 x V_BAT, V
IL
: 0 ~ 0.4V
V
OH
:

0.75 x V_BAT, V
OL
≦ 0.4V
standard - patch: 25x25x4, 4800bps, N-8-1
standard - patch: 25x25x4, 9600bps, N-8-1
Address: 2F, No.56, Park Ave. II, Science-Based Industrial Park, Hsinchu 300, Taiwan (R.O.C.)