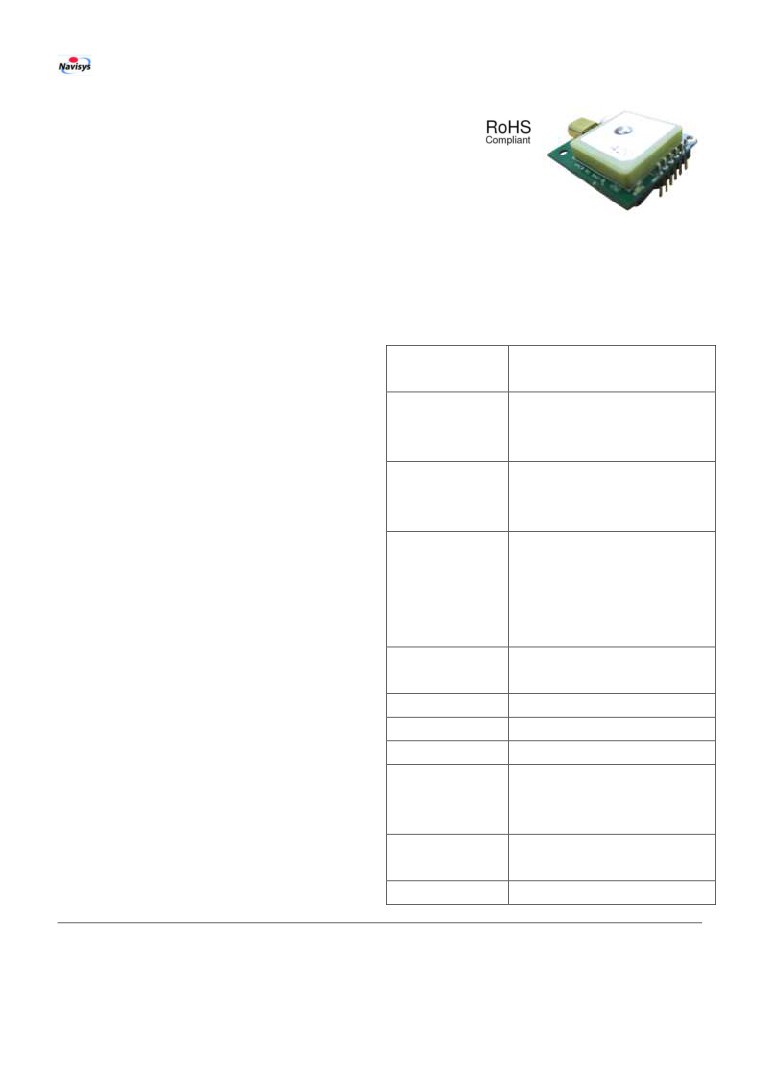 NaviSys Technology - Your Location Partner
SS4 GPS Smart Antenna Module / GM-428
GM-428, SiRFstarIV, TTL Compatible,
Ultra-High Performance GPS Module
w/ MCX External Antenna Connector
Removes in-band jammers up to
80 dB-Hz
Industrial operating temperature range: -40 ~ 85℃
GM-428 is built-in with
patch antenna
,
backup battery,
power control pin,
and
MCX external RF
connector.
The integrated design allows
easily connect and use
.
Receiver
Performance Data
The built-in SiRFstarIV chip and our experienced design
provide fast acquisitions and excellent tracking
performance. This self-contained ultra-high performance,
low power GPS smart antenna module makes it an ideal
solution for devices demanding both high performance
(50% 24hr static, -130dBm)
Driving recorder, digital camera
Automatic vehicle location
Easy to use with built-in patch antenna, backup
battery, and MCX external antenna connector
External backup power option available
Excellent EMI protection and minimum RF efforts
<1,852 km/hr or 1,000 knots
Based on SiRF's GSD4e low power single chip
High performance: -163dBm tracking sensitivity
Default: NMEA 4800bps N,8,1;
Low power: 32mA, tracking (3.3V, 8 SVs, -130dBm)
GGA,GSA,RMC@1Hz, GSV@1/5Hz
SBAS (WAAS, EGNOS, MSAS, QZSS, GAGAN)
Multi-mode AGPS support (optional)
Local ephemeris prediction
Sales contact:
sales@navisys.com.tw
Technical support:
service@navisys.com.tw
Address: 2F, No.56, Park Ave. II, Science-Based Industrial Park, Hsinchu 300, Taiwan (R.O.C.)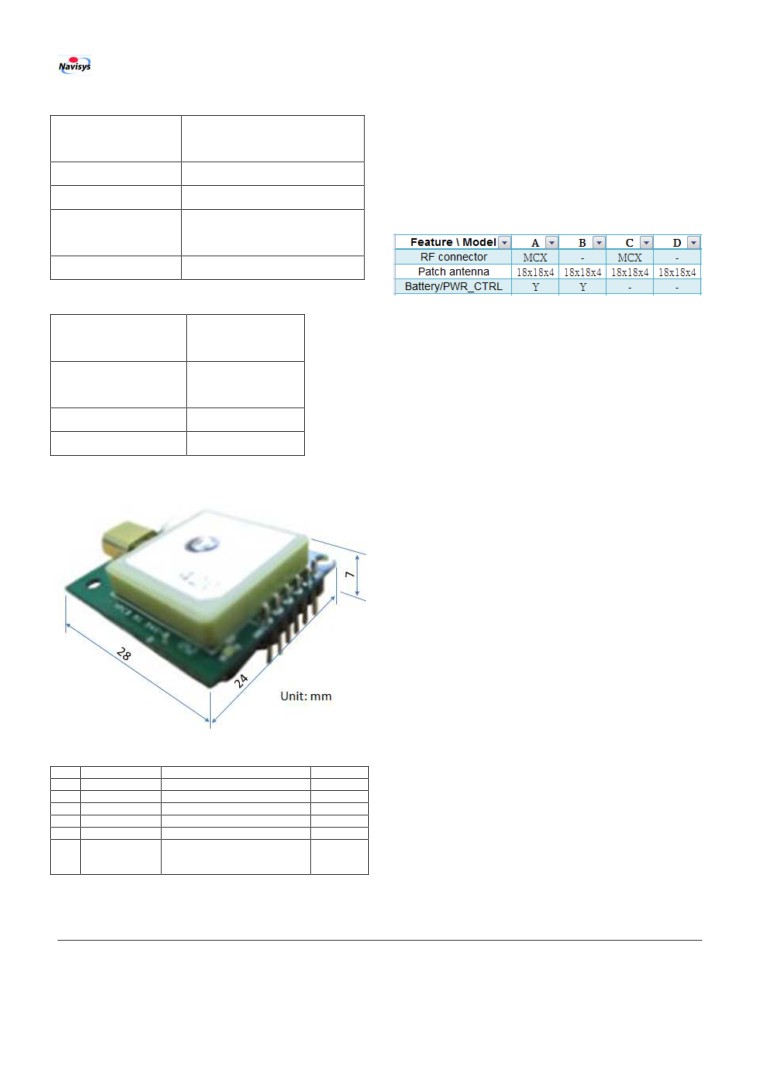 NaviSys Technology - Your Location Partner
SS4 GPS Smart Antenna Module / GM-428
1. Place GM-428 in device with antenna side facing
3.0~5.5V w/ built-in battery
sky for better signal reception.
2.5~5.5V w/o built-in battery
2. Solder it to main board via DIP connector.
Nominal voltage: 2.5~5.5 V
V
IH
: 1.4~3.6V, V
IL
: 0~0.45V
V
OH
: ≧VCC-0.1V, V
OL
: ≦ 0.4V
*This document is subject to change without notice.
Mechanical
Data (excluding DIP)
TTL level serial data output
TTL level serial data input
high/floating: ON, low: OFF
Sales contact:
sales@navisys.com.tw
Technical support:
service@navisys.com.tw
Address: 2F, No.56, Park Ave. II, Science-Based Industrial Park, Hsinchu 300, Taiwan (R.O.C.)