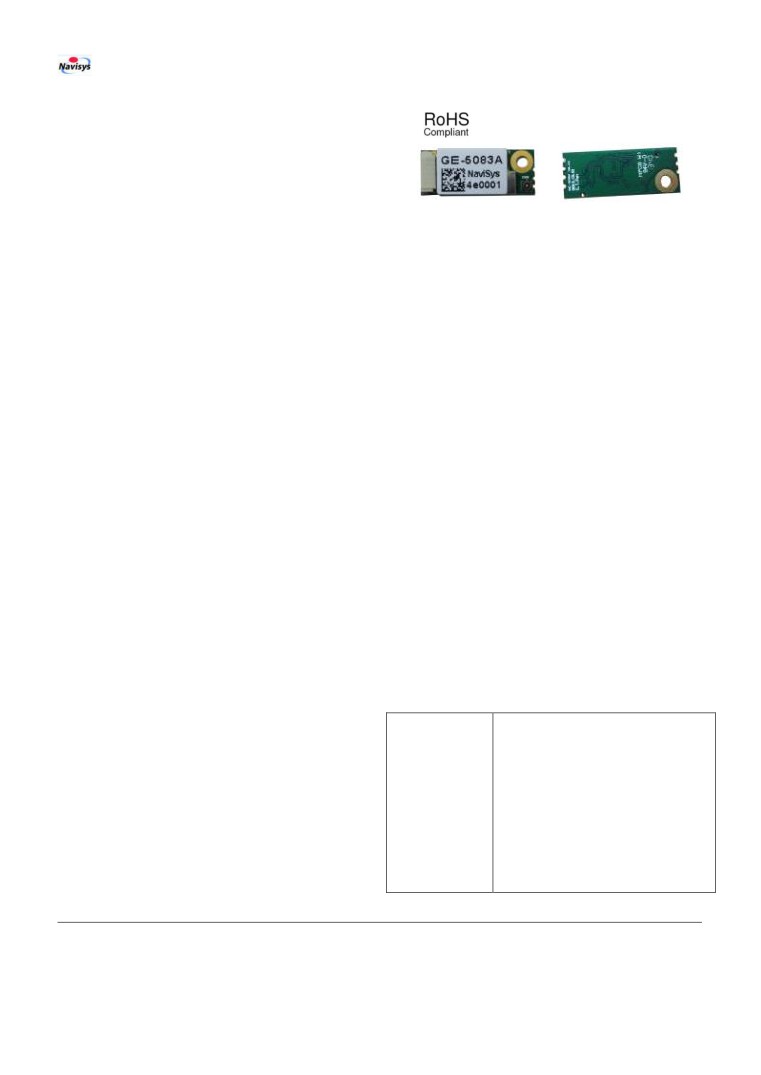 NaviSys Technology - Your Location Partner
Easy, Tiny GNSS Engine Board/ GE-5083, GE-5084
GE-5083/GE-5084, Easy Placement,
Built-in RF connector, reduce RF tuning efforts

Flexible antenna installation
GE-5083/GE-5084 is a tiny, ultra-high performance,
Built-in digital connector: flexible module installation
GNSS engine. It is especially useful for size demanding
Screw hole for fixing & performance enhancement
device. It could be placed at free space in a product
External active antenna
short circuit protection
housing while reducing the main board size to just a small
Backup power for faster position fix.
12 multi-tone active interference cancellers
In addition, this low power engine supports multiple
Indoor/outdoor multi-path detection & compensation
satellite positioning systems - GPS, GLONASS, Beidou,
High accuracy 1PPS timing (10ns jitter)
Self-Generated Orbit Prediction (EASY)
1
Based on our experienced design, GE-5083/GE-5084
fully exhibits the excellent performance of MT3333 chip. It
works in GNSS signal difficult environment, providing fast
Industrial operating temperature range: -40 ~ 85
℃
acquisitions and excellent tracking performance.
Some features may not coexist and need special

Automatic Vehicle Location, Navigation
firmware or command programmed by customer

Timing (GPS clock, FEMTO cell, traffic lights etc)
MOQ-based customization is welcome.

Industrial PC, POS, ITS, Telematics

Driving recorder, camera detector
Receiver
Performance Data
+

Multi-satellite positioning systems support

GPS/QZSS/
GLONASS
(
GE-5083
)

GPS/QZSS/
Beidou
(
GE-5084
)
L1OF 1598.0625 ~ 1605.375 MHz

SBAS (WAAS, EGNOS, MSAS, GAGAN) support

High performance: -165dBm tracking sensitivity

Low power: 22 mA at continuous tracking

Tiny & low profile - including connectors
Tracking: 33 /acquisition: 99
8 (width) x 20 (length) x 2.7 (height) (mm)
Address:2F, No.56, Park Ave. II, Science-Based Industrial Park, Hsinchu 300, Taiwan (R.O.C.)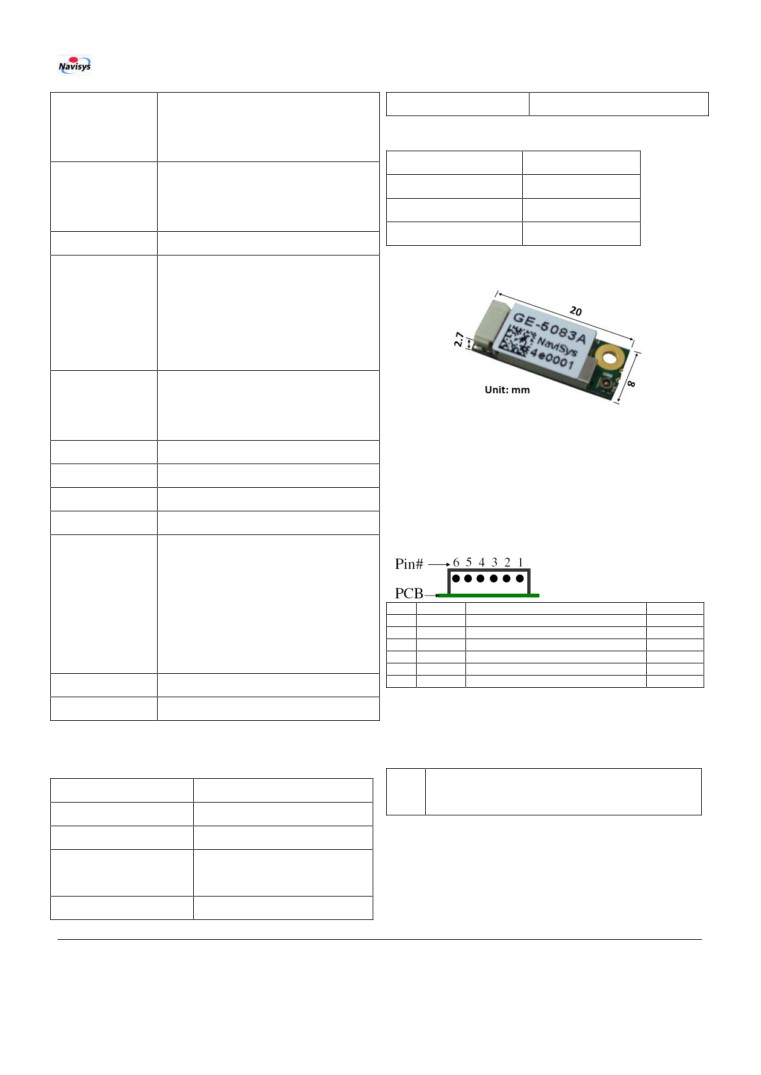 NaviSys Technology - Your Location Partner
Easy, Tiny GNSS Engine Board/ GE-5083, GE-5084
(50% 24hr static, -130dBm)
<0. 1 m/s (speed, autonomous)
±
10ns jitter (1PPS output)
Mechanical
Data - 8 x 20 x 2.7 (mm)
(-142dBm 28dB-Hz with 4dB noise figure)
The screw hole could be used for fixing or
reducing potential ground noise if it is connected to
main board via a shielded ground cable.
6-pin
Interface, pitch 0.8 mm
4800/9600(default)/38400/115200
bps N,8,1(No parity, 8 data bits, 1 stop
TTL level serial data output (from GPS)
TTL level serial data input (to GPS)
RF
Interface,
I-PEX MHF4 connector
+
Note. According to IC Spec
GGA, GSA, RMC, VTG@1Hz, GSV@1/5Hz
*This document is subject to change without notice.
V
IH
: 2.1~3.1V, V
IL
: 0~0.7V
Address:2F, No.56, Park Ave. II, Science-Based Industrial Park, Hsinchu 300, Taiwan (R.O.C.)